Things are changing
We are continuing to improve our developer documentation as we finish up migrating our documentation centers from their previous home. In the meantime, we ask for your patience while we put things in place and begin a full overhaul of our content for better readability, usefulness, and your overall experience.
We will try to limit your inconveniences as much as possible, but bare with us as we work. We strive for continuous improvement and have prepared a roadmap to begin that journey.
Acoustic Content is a cloud-based content management system that provides your business the ability to create, store, and retrieve content for your business needs in an effortless way. Acoustic AI automatically analyzes images and provides tag suggestions to help make your process easier. You can retrieve the content from the hub by using the APIs to publish them in various media. You can publish the content through the various channels by selecting only parts of the content that is required for each channel. For example, a graduation promotional content can be published on a website with multiple images, text, and video. The same graduation promotional content can be emailed to subscribed customers with just an email text and an image.
Figure 1. Delivering content across channels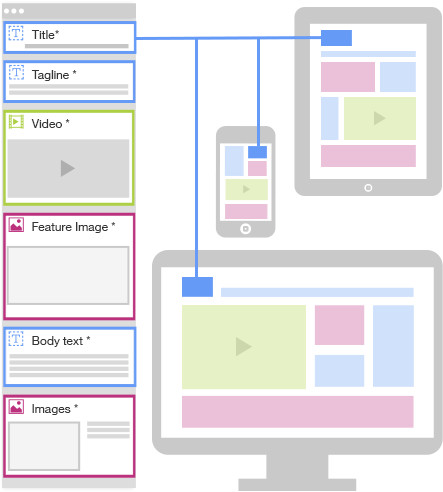 Help documentation
To get started with the Acoustic Content user interface, see Product Documentation.
API reference documentation
To get started with the Acoustic Content APIs, see Documentation.
Samples
Learn, develop, and explore Acoustic Content and its APIs with samples that range from simple to complex. View the samples live in the samples gallery
Tutorials
For end-to-end instructions about using the Acoustic Content, see the topics listed under Tutorials.
Headless content management
Sites
Updated 2 months ago
---